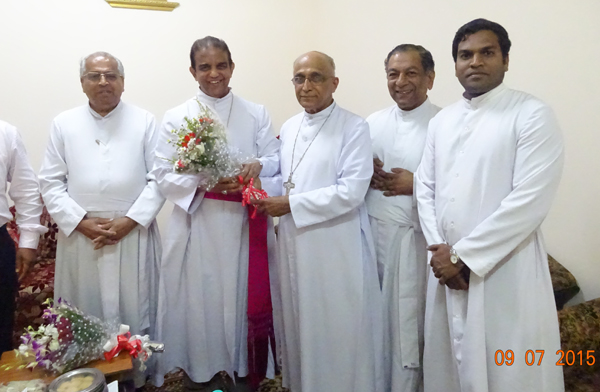 Mar Antony Kariyil CMI meets Archbishop Moras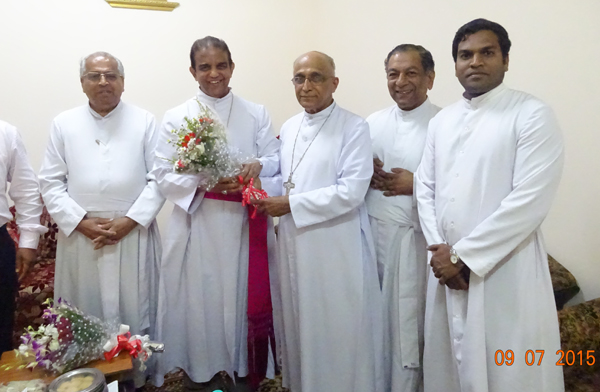 The newly elected Bishop of the Syro-Malabar Diocese of Mandya, Most Rev Anthony Kariyil. CMI, called on the Archbishop of Bangalore Most Rev Dr Bernard Moras in Bengaluru on Monday.Most Rev Anthony Kariyil will be the second bishop for the newly-erected Syro-Malabar-Mandya Diocese after Mar. George Njaralakatt, who is now the Archbishop of Tellicherry.Before taking charge as Bishop of Mandya, Bishop Anthony Kariyil visited Most Rev Dr Bernard moras, Archbishop of Bangalore at Archbishop's House to receive the blessing and wishes.He was accompanied by Rev Fr Mathew Koikara, who has been appointed Episcopal vicar for Syro-Malabar faithful in the Archdiocese of Bangalore.The Episcopal consecration of the new Bishop will take place on Sunday, October 18, 2015 at 2.30 pm at the Infant Jesus Cathedral Church of the Syro-Malabar Mandya Diocese at Hinkal.Around 25 bishops are expected for the episcopal consecration of the new bishop.
The principal consecrator would be Mar. George Njaralakatt, Archbishop of Tellicherry and the co-consecrators would be His excellency Archbishop Salvatore Pennacchio, Apostolic Nuncio and Most Rev Dr Bernard Moras, Archbishop of Bangalore.