Archbishop Mar George Njaralakatt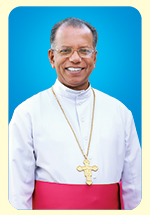 Archbishop George Njaralakatt was born on 23.06.1946 at Arakuzha in the Archdiocese of Ernakulam (now in the diocese of Kothamangalam), as the eldest son of Varkey and Mary Njaralakatt. He had his Elementary School studies at Arakuzha. In 1960 his family migrated to Nadavayal in South Wayanad Taluk in Calicut District which was then in the diocese of Tellichery. He completed SSLC in 1963 at St. Thomas High School, Nadavayal and he was admitted in St. Joseph's Minor Seminary, Tellichery by Bishop Mar Sebastian Valloppilly. He did his philosophy and theology at St. Joseph's Pontifical Seminary at Mangalapuzha, Aluva. He was ordained priest for the diocese of Tellichery by Bishop Mar Sebastian Valloppilly on 20.12.1971 in St. Joseph's Cathedral Church, Tellichery. He holds a BA degree from the University of Mysore.
As a priest Fr. Njaralakatt was first appointed as the Assistant Parish Priest of St. George's Church, Kanichar. He served the parish for an year (April 1972 to April 1973). In 1973 he was transferred to Arinchermala and Kaniampatta as parish priest. The Diocese of Tellicherry was bifurcated in 1973 and the Diocese of Mananthavady was formed on 01.03.1973 and he was transfered to the new diocese. He served the diocese in various capacities as Parish Priest, Vicar of Forane District, Director of CML, Assistant Director of Catechism Department and later as its Director, Director of Pastoral Centre at Dwaraka, Procurator, Vicar General and Administrator. He took Licentiate in Catechetical Theology from Pontifical Salesian University, Rome, in 1983-86. In 2008 he became the first Vicar General of the diocese of Bhadravathy. When the diocese of Mandya was created by bifurcating the diocese of Mananthavady in 2010, he was elected its first bishop. He was ordained a bishop by Archbishop Mar George Valiamattam in the Cathedral Grounds of Infant Jesus Cathedral Church, Mysore on 7th April 2010 and he took charge of the diocese on the same day.
On 29.08.2014 Bishop Mar Njaralakatt was elected by the Holy Synod of Syro Malabar Church as the Metropolitan Archbishop of Tellicherry as Archbishop Mar George Valiamttam tended his resignation upon reaching retirement age. Bishop Njaralakatt was installed as the Archbishop on 30.10.2014 and assumed office on the same day. He is the direct heir of the patrimony of Tellicherry as he was ordained a priest by the legendary first bishop of Tellicherry, Mar Sebastian Valloppilly of happy memory (1953-1989) and a bishop by Mar George Valiamttam, the second bishop (1989-1995) and first archbishop (1995-2014) of Tellicherry.