Upcoming Pithruvedi Day 2023, 1st Nov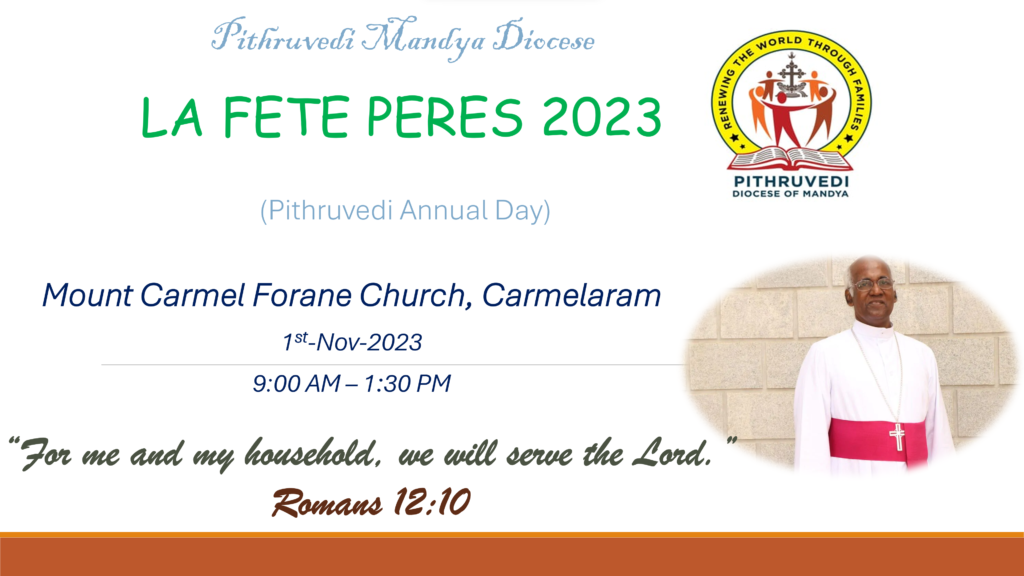 Pithruvedi Annual Day shall be on November 1st, at Mount Carmel Forane Church, Carmelaram.
Vocation Promotion Day 2023, 30th July
Mandya Diocese Vocation Promotion Day was conducted by Pithruvedi on July 30th at St. Sebastian's Forane Church, Mathikere. Mar Sebastian Adayanthrath, Bishop of Mandya Diocese, inaugurated the gathering and provided a great message.
The event had esteemed dignitaries of the like, Fr. Mark Nediyakalayil OCD, Pithruvedi Director, Mandya Diocese, Mr. Darly Kuriakose, Pithruvedi President, Mandya Diocese, Rev Msgr James Kunnampadavil CMF, Proto Syncellus Mandya Diocese, Rev Fr Mathew Mechirakal CMF, Vicar – St Sebastian's Forane Church Mathikere, Rev Fr Rony Puthanveetil MDA, Rector – Mother Teresa Seminary, Mandya, Rev Fr SajiPeriappanal– Curia Member and Mrs Binny Saji, President , Mathruvedi, Mandya Diocese.
There were 300+ participants from 21 different parishes across the Mandya Diocese, and the gathering and messages iterated the importance to promote the Vocations from Mandya Diocese. There were experiences and messages shared by Rev Sr Amelia Vadakkan LSMS, Rev Sr Dr Mary Rose SD, Mr George PJ & Mrs Jancy George -Parents of Sr Simi George, Rev Sr Dr Jenniffer Jacob SD, Brother Mathews Marian Mathew, Brother. Savan Kalluprayi, and the vote of thanks by Mr. Henry K J , President, Pithruvedi, St. Sebastian's Forane church Mathikere.